---
SMART Technologies
SMART has a progression of online courses available to teachers who use a SMART Board (or even just SMART software in their classroom on a regular basis. This training is available at no charge. Courses include:
SMART Digital Educator: Get started in your classroom with complimentary training on SMART amp and SMART Notebook (including SMART Lab and Response 2) – powerful components of the SMART Learning Suite. Provides the foundation to use SMART solutions in your classroom. Click here.
SMART Digital Champion: Take your teaching and learning to the next level in the classroom with this complimentary training on SMART amp and SMART Notebook (including SMART Lab and Response 2). Provides theory and examples to incorporate SMART software solutions into classroom strategy. Click here.
The entire catalogue of online courses that are available for free can be found here.

---
YouTube
A valuable resource for educators. YouTube gives you access to a number of tips and lessons, from other educators and from SMART Certified trainers. Find out about new products, and what other educators are doing with technology in their classrooms.
Duplicom recommends the following YouTube channels:
Featured Videos
---
Smart White Papers
SMART has created numerous white papers to help you find the products that will best suit your needs. These research documents are easy to read, cover a variety of topics and provide practical, reliable information that assist you in making informed decisions about the technology you implement.
Duplicom recommends:

---
Resources
We have been scouring the World Wide Web looking for interesting and useful resources for you to use in the classroom. Tools that will help you integrate technology into your lessons whether you are just beginning to welcome tech or if you're an expert.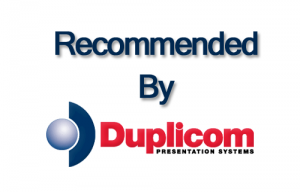 digital Human Library is a free educational resource that connects Canadian teachers and students with hundreds of organizations and experts around the world who are delivering interactive curriculum-based programs using video conferencing technology. Curious? Click here to visit the dHL site.
Teach for Google is a brand-new collection of resources designed to help teachers get the best from Google Apps for Education.
You'll find many short courses that bring together strategies and best practice from leading educators. Each course comes complete with templates, forms, tips and other top-quality assets to help you deliver better teaching that boosts student engagement and actual attainment. Click Here to visit the site and sign up for free.
---