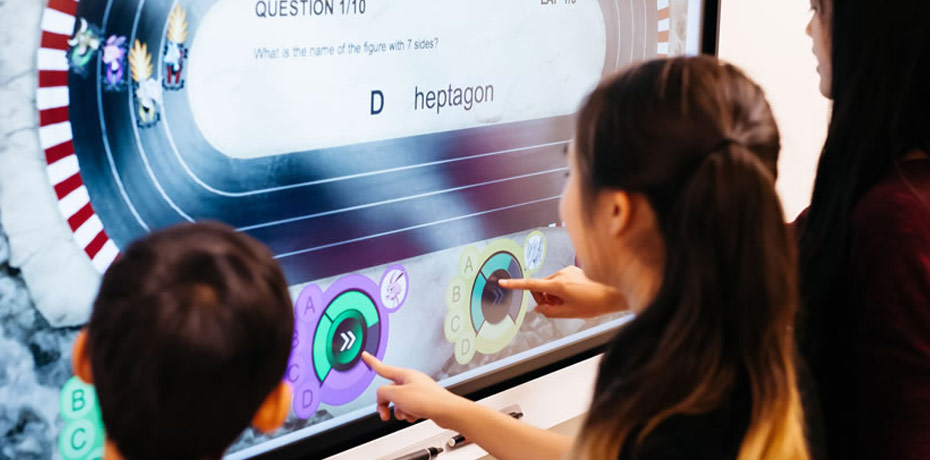 Students achieve more when they're free to express themselves and explore their interests. The SMART Board 6000-series with iQ gets everyone in your classrooms out of their seats and eager to learn, using different devices. The 6000-series helps you create learning experiences without cables or limits..
The SMART Board's built-in iQ technology puts everything you need in one place, available at the touch of a finger. There's no need for wires and cables. The embedded computer offers one-touch access to SMART Learning Suite applications like SMART Notebook® lessons, SMART lab™ activities and SMART amp™ workspaces. There's also access to collaboration tools, like a digital whiteboard, built-in web browser and wireless screen sharing (iOS, Android and Microsoft devices).
Additional Key Features Include:
Simultaneous touch points – 8 simultaneous touch points and, available only on SMART Boards, Simultaneous Tool Differentiation: frees students to work together on a group project or complete separate tasks at the same time. Everyone is able to jump in using pens, erasers and fingertip.
Brilliant 4K UHD resolution – Durable, commercial-grade 4K UHD LED panels display brilliantly detailed images in 3840 x 2160 resolution. The anti-glare surface keeps students involved no matter where they're seated in the room. No more downtime fixing burnt out projector bulbs, no shadows getting in the way, no glare or hot spots, and no faded images.
New level of dependability – Never worry about classroom downtime with 50,000 hours (when brightness reduced to half) of stunning content quality and reliable service, outlasting typical technology life-cycles. Unlike consumer screens, we've designed our new generation of displays for the classroom. When it's time to replace, the timing is decided by you, when it's right for your school.
Silktouch™ technology – Smooth writing experience produces lines with curved edges that look real and an ultra-smooth finish allows teachers to use the board for hours without finger burn.
SMART Ink™ technology – lets you write over websites, videos, PDFs and Microsoft Office® files and save your notes in almost any file type..
Powered by SMART Learning Suite® – Included is the software that teaches the world, optimized for use on SMART interactive displays. Create lesson plans in the same environment you'll be teaching on. The world's most popular learning software is made by teachers, for teachers, to inspire students in perfect harmony.
Energy Star® certification
The SMART Board 6000 series interactive flat panels are available in 65″ and 75″ diagonal versions.
Download the brochure: SMART 6000-series IFP Brochure_v4 – D
Contact us for more information
---