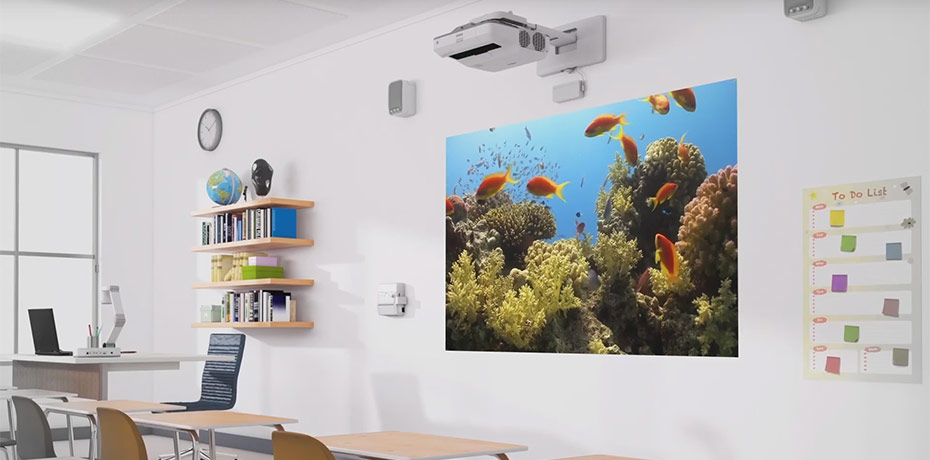 Epson BrightLink Interactive Projector – 695Wi
Transform your classroom into a collaborative learning space with the BrightLink 695Wi ultra short-throw WXGA interactive display. Featuring 3,500 lumens of brightness, the 695Wi delivers a dynamic, easy-to-read display up to 100″ — from as close as 11″ away. Turn almost any existing whiteboard into an interactive workspace with touch-based interactivity. Wirelessly display content from a variety of devices — including Chromebooks — using the Epson iProjection App with Moderator device management software. Plus, it includes a 1-year subscription to SMART Notebook.
Key Features Include:
Touch-based Interactivity – enables as many as six students to touch, draw, select and interact using intuitive and familiar gestures.
Convenient collaboration for BYOD classrooms – wirelessly share and compare students' work from multiple devices, simultaneously, with Epson network Moderator software and the Epson iProjection App.
Wireless interactivity – use EasyMP software with a networked BrightLink projector to share and interact with content from your laptop as you move freely about the classroom.
Flexible wall mount (not included) – the telescopic arm makes it easy to mount the projector, and then adjust the image, on any surface including plain walls and existing boards.
Compatible with top interactive software – maximize your investment by utilizing familiar teaching applications such as SMART Notebook­™ (one year subscription included) – Ask us about special license pricing.
Contact us for more information
---