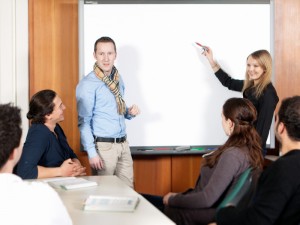 The SMART User Group is a 90 minute after school interactive workshop designed for teachers who are experienced SMART Board users.  You will learn from other Teachers and share your own tips and tricks for using the SMART Board.  The Group is led by SMART Certified Trainers, SMART Exemplary Educators and experienced teachers.
SMART Board User Group Format:.
Each User Group will consist of three parts:
1. A 30 minute presentation demonstrating SMART Board Tips and Tricks that will make your lessons and activities more interactive and easier to build and use.
2. A 30 minute Question and Answer session where you can ask those questions that have been bothering you about the SMART Notebook software. Answers are guaranteed.
3. A 30 minute Voluntary sharing session where participants share what they have been doing in the classroom with SMART Notebook and their students.
At the end of each session participants will receive the download code to download the presentation and shared items from the User Group along with some fantastic WEB links and Notebook files for SMART Board users.
Register online now and join us for a free User Group. Space is limited!
For more information, please visit our FAQ page
Upcoming User Group dates:
Thursday Nov 8, 2012 – Kitchener
Thursday Dec 13, 2012 -  Kitchener
Thursday Feb 21, 2013 – Kitchener
Thursday Mar 21, 2013 – Kitchener
Thursday Apr 11, 2013 – Kitchener